CONSERVATIVE
GRIT
to
SHAKE UP
JUNEAU
Let's shake up Juneau!

In listening to Alaskans, it is clear to me that voters are very dissatisfied, even angry. They overwhelmingly feel that Alaska is 'on the wrong track.'

Alaskans are hungry for new leadership. They are ready for a Governor who will bring conservative solutions, fresh energy, and a business-like perspective to Juneau.

My plan to shake things up starts with the following:
My Priorities
Scott's solutions to the challenges facing Alaska
Issues
Where Scott stands on matters important to Alaskans
About Scott
Husband. Businessman. Conservative. Republican. Alaskan.
As an Alaskan of more than 35 years, I have grown to love this state. It has been good to me and my family in so many ways - including lifestyle, friends and professional opportunities. I want those same opportunities for all Alaskans.

I have been married to my wife, Toyoko, for over 25 years and we have a 23-year-old daughter, Lisa, who graduated from Service High School.

Early in my professional career I was a bank economist, specializing in Alaska's major industries. In the late 1980s, I was named the founding president of the Anchorage Economic Development Corp. (AEDC), where I assembled successful economic development projects that, still today, are important to Alaska's economy.

For the past 20 years, I have been a founder, owner and operator of two long-standing Alaska businesses. These companies together provide jobs for roughly 200 people.

Throughout my career, I have worked overtime to foster a healthy Alaska economy, sensible state budget policy and stable, safe communities. In the service of those goals, I have organized campaigns to elect pro-business, pro-jobs conservatives to the Alaska Legislature.

In short, I offer management skills, business perspective, economic expertise, policy acumen, and proven skills as an innovative problem solver - the "Conservative Grit to Shake Up Juneau!"

Read More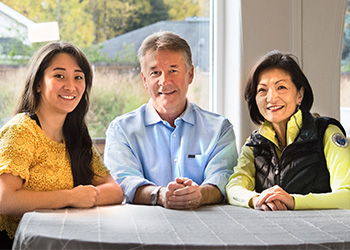 Donate
Support the Hawkins Team
Mailed donations can be sent to:
Scott Hawkins for Governor
130 Shelly Marie Circle
Anchorage, AK, 99515
News
The latest from the campaign
(JUNEAU, AK) – Scott Hawkins today visited Juneau, appearing on Pete Carran's show on KINY and visiting with legislative leaders about the importance of holding the line on the state operating budget.
(ANCHORAGE, AK) – In a stunning upset on Saturday, Scott Hawkins surged to the lead in the Governor's race at the Alaska Republican Party convention in a live poll of delegates, who were asked whether to approve or disapprove of each of the four gubernatorial candidates.
(ANCHORAGE, AK) – Scott Hawkins for Governor today released a new web video, promising to turn back the crime wave spawned by Senate Bill 91, which was approved by Governor Bill Walker and lawmakers in 2016.
More News